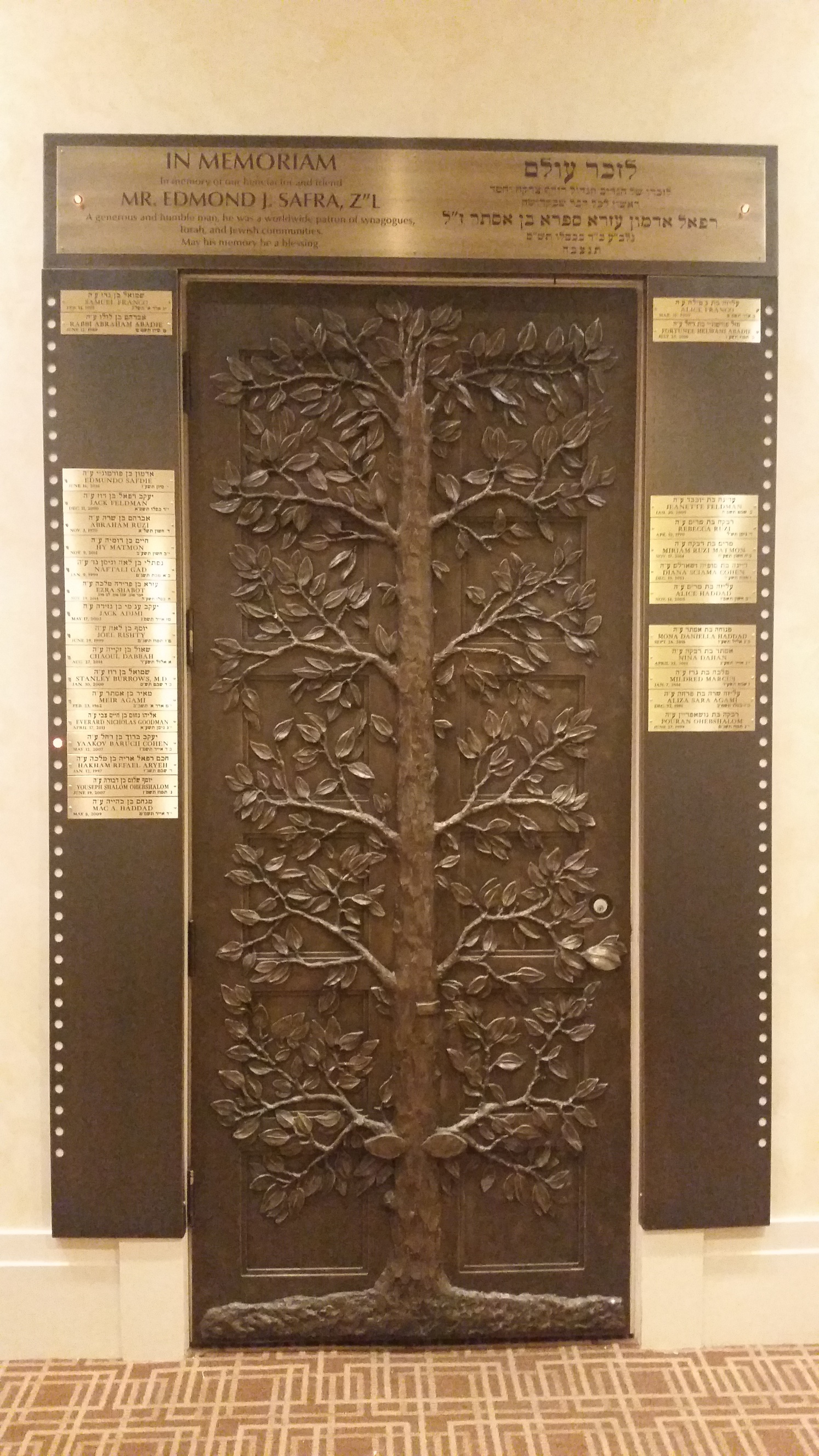 The front entrance of the Edmond Safra Synagogue in New York, NY is impressive, to say the least. The front door of the Synagogue displays a massive, sculpted bronze tree of life flanked by two living trees. The design of the tree mirrors the design of the Congregation's logo. It is beautiful, unique, symbolic, and easily recognizable. The beauty of the building's façade continues when you step inside and see the décor steeped in culture and history. When the need for a new Yahrzeit Memorial board came about, the congregation wanted to make sure that the finished piece would be at home in their beautiful space, and would be just as unique and symbolic as their front door. When they contacted W & E Baum to discuss their project, it was a perfect fit.
From photos of the gorgeous and ornate front door, our sculpture artist Helene Hemmens, was able to re-create the entire design of the tree in clay. The sculpture was then used to create a mold for the tree to be cast in bronze resin, resulting in a solid piece nearly identical to the front door. We used the recreation as the centerpiece for their memorial board, with a plaque above recognizing the donors that made it possible, as well as the Synagogue's namesake, Edmond J. Safra. The columns where Yahrzeit nameplates are displayed flank the sculpted door, mirroring the way the entrance of the synagogue is set between the two living trees. We used our patented automated yahrzeit lighting system that is extremely user friendly and programmable so that the lights will turn on for Yahrzeit dates and holidays without the need to press buttons or turn light bulbs.
The end result is a Memorial Board that is simple but elegant, unique but easy to recognize. It serves multiple purposes- first and foremost as a beautiful way to memorialize those who have passed, but also as an appealing way for the synagogue to raise funds through dedications. At W & E Baum, we treat each and every project with this level of personal attention to ensure that you are left with an end result that you are proud to display in your organization, and that will suit your fundraising or recognition needs. We understand the concept of telling a story through our work, and no two pieces that we create are the same. So if you are wondering "Is this a project that W & E Baum can handle?" or "Is this something they are able to do?" The answer is yes, and we are looking forward to working with you.
To see more of our beautiful memorial boards, click here.