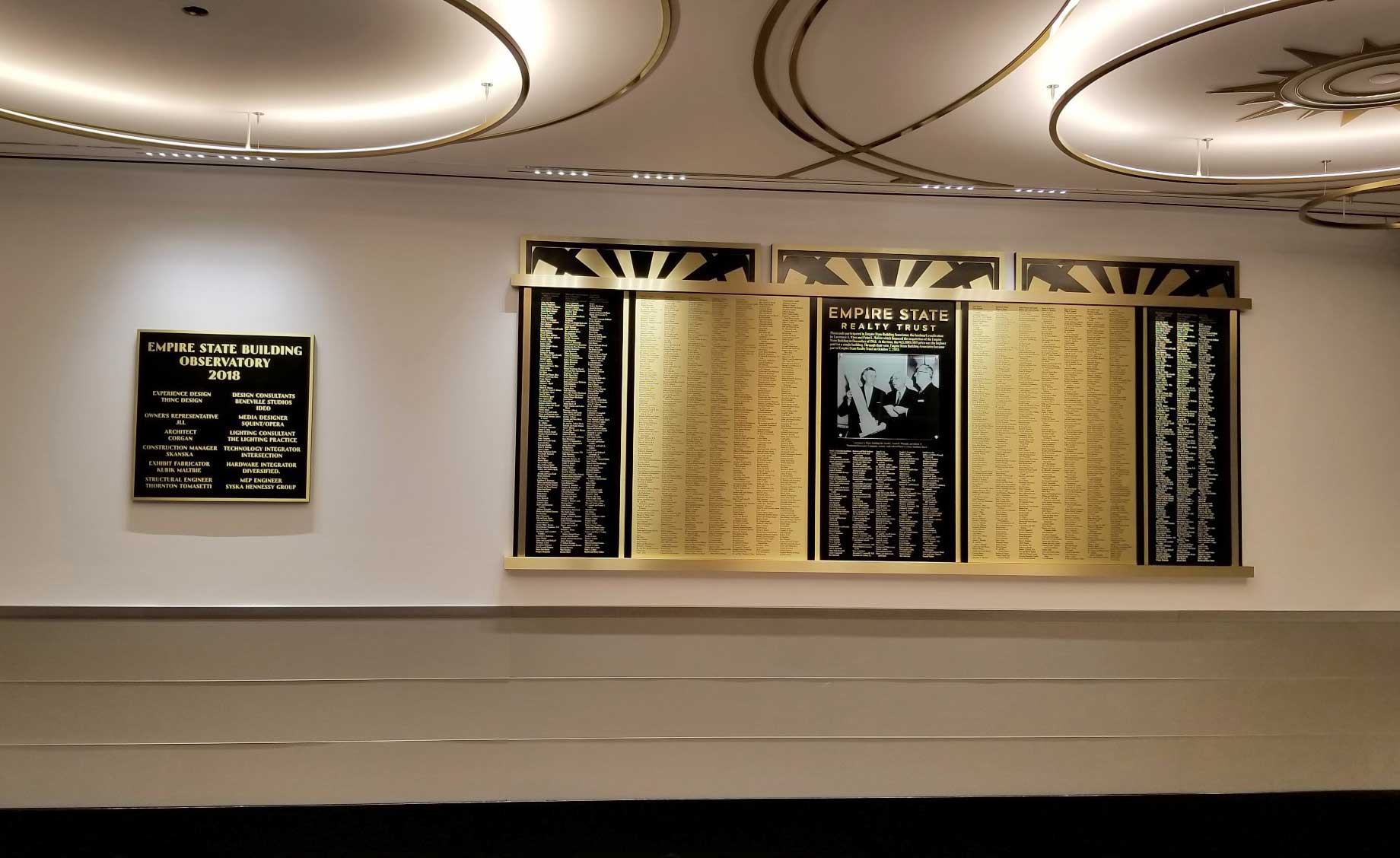 The Empire State Building is easily one of the most recognizable among New York City's iconic skyline. Construction finished in 1931 on the architectural masterpiece and it has been a popular attraction ever since, drawing large crowds of visitors and tourists each year. The building and plot of land on which it stands has a rich history that extends as far back as the late 1700s, and is dotted with important events from ground breaking, to construction milestones, dedications, expansions and purchases. In 1961, the building was sold to Lawrence A. Wein and Peter L. Malkin for $65 million dollars- the highest price ever paid for a single building. So when Malkin Holdings and the Empire State Realty Trust decided to commemorate this landmark historical event, they knew that they wanted to do so in a unique way to recognize this event on a history wall that would fit in with the building's style and aesthetic, and they knew that they could trust W & E Baum to deliver on those points.
The syndication recognition history wall resides in the Observation deck gathering area, where it is seen by each visitor to the Empire State Building Observation Deck. The recognition design carries over elements of the building's art deco themes, keeping it consistent and congruent with the overall design and décor of the building. Alternating Brass and Black Brass panels are etched with 2,500 names of the former members of the Empire State Building Associates, recognizing all those who had invested, inherited or acquired interests in ESBA. The design is multi-elevational, and accented with satin brass bars and art deco arches. A black and white photo taken at the historic purchase meeting is showcased in the center of the wall, housed between glass panels and fastened with decorative brass rosettes. The end result was a beautiful addition to the historic and iconic building, fitting right in as though it had been a part of the building all along.
At W & E Baum we understand the importance of making sure that each piece that we create not only fits the budget, but also tells the story of the individuals or event being recognized. We don't have stock displays; we customize each and every job- from the Empire State Building to the smallest of plaques- so that they become part of the organization- a donor recognition or history wall that fits- and not just something hanging on the wall. We work with you and for you to deliver something that your organization can be proud to display, something that you are happy to share with your donors and visitors. At W & E Baum, we put you first.
To see more of our unique and diverse recognition displays, click here.